See on Scoop.it – Climate Impacts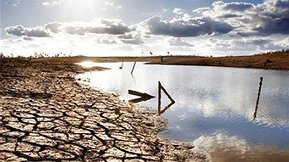 Australian researchers have found that extreme versions of the cyclical weather pattern El Niño — dubbed 'super El Niños' — will double in frequency under projected global warming scenarios, with repercussions for many countries across the globe.
El Niño is the weather phenomenon responsible for Australia's climate of "droughts and flooding rains". In an El Niño year, a band of warm ocean water rises off the coast of South America, expanding westwards across the Pacific Ocean and displacing colder waters. El Niño in Australia is associated with decreased rainfall.
Some years, such as 1982-83 and 1997-98, the El Niño effect was stronger than usual, with warmer water flowing in an unexpected way.
"These peculiar extreme El Niños were characterised by sea surface temperature anomalies moving eastward along the equatorial Pacific Ocean, with a current reversal," said Dr. Agus Santoso, of the UNSW Climate Change Research Centre, one of the authors of the study.
Crop losses as a result of the 1983 super El Niño were worth US$12 billion in the USA alone.
In a collaborative effort, scientists from the national science agency CSIRO and the Australian Bureau of Meteorology used statistical modelling to uncover how global warming influences the super El Niño.
The team collected weather data to model various warming scenarios ranging in extremity, and used results to predict effects on El Niño cycles originating out of the tropical Pacific Ocean. They found that normal El Niño patterns intensified and occurred more frequently with increased global warming. The study was published in the journal Nature.
See on www.abc.net.au